Transforming to client advisory isn't difficult if you have the right support.
Are you overwhelmed by all the Client Advisory Services others say you "should" offer?
Do you struggle with "imposter syndrome"?
Think you don't have time to offer Client Advisory Services?
Are you ready to transform into a high-value CAS firm?
Become a Profit First ProfessionalFind a Profit First Professional
What makes us different
Profit First Professionals members are held accountable to a process of transformation, which increases their confidence and helps them overcome roadblocks as they work to reach their goals. This process gives our members the framework to transform their clients' companies into highly profitable businesses, while becoming highly profitable themselves.
A Profit First Professionals firm is known as a strategic, trusted Client Advisory Services provider and an integral part of their clients' business success. As a member, you will have access to all the training, resources, and accountability you would expect from the most recognized profit brand in the world. Plus, you'll get a supportive community that will help you achieve greater heights than you'll reach going it alone.
Meet the owners of Profit First certified firms
"Profit first Professionals offered me the tools, a system, a structure that really enabled me to help my customers fix their cash flow problems and really achieve the dreams that they're trying to achieve. That's what I love about Profit First Professionals, it helped my clients, and it helped me in both personal life and business as well."
…now it's your turn!
"I have had so many great conversations and I have learned so much from this giving community. There are a lot of accounting communities out there, but I found that Profit First Professionals seems to be one of the most welcoming and really helps you focus on not just marketing, but actually, the business overall."
…now it's your turn!
"I came into this community and the benefit was that I found myself. I found a passion. I love my business! I love what I do! I love how it helps people. I thought it was kind of destined to live 'playing small' and through this community, I have realized I do not have to and that there is a place where I am wanted and appreciated."
…now it's your turn!
Accountability and support breeds confidence and transformation.
Transform the way YOU think about your firm.
Your business is the vehicle for you to fulfill your dreams. Stop sacrificing what you want for what you "should" do.
Transform the way your CLIENTS think about your firm.
As a Profit First Professional, you will no longer be just another compliance services provider. You will have the confidence to provide highly sought after (and highly profitable) Client Advisory Services.
Transform YOUR future.
Growth never stops, but your confidence can wane. As a Profit First Professional, you will be held accountable to your goals so you can continue to transform your firm and your life.
Become a Profit First Professional
Find a Profit First Professional
"Membership has been amazing because not only has it changed my life personally, but it's changed my clients' lives. They're buying buildings, they're becoming first generation millionaires. Sharing this system has significantly changed their lives in a way that I'm proud of too."

"My biggest success is myself and my firm. When we joined, we jumped in with both feet. In our first year, we were up 187% in net profit! And, even better than that, is that I've had that same growth experience with all of my clients."

"We joined because my team was afraid of taking on advisory. My team wanted a place where they could be supported and learn how to better advise our clients. The support and community that we found in PFP is a game changer."

"The success I've experienced is really simple. I don't work as hard as I used to! You know, it's really taught me how to be a better business owner and, as Mike says, a creator of jobs. So I'm doing less but making more. You really can't beat that."

"I've been coaching dentists for a long time. I was well respected and trusted in the industry as a coach, as a consultant. But when I started doing Profit First, they knew I had something different. Those first few clients saw the success and started giving me testimonials. I knew at that moment I had something very special."
Discover how to position yourself as a high-value expert from your very first call with a prospect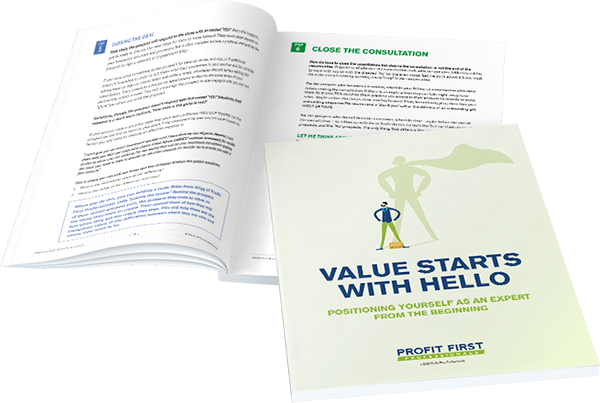 The Profit First Professionals Difference
Where It Began
Profit First Professionals was created in 2014 to help accounting, bookkeeping, and business coaching firms like yours escape the compliance trap and start making more of a difference for their clients.
Using the principles documented in the book, Profit First, co-founders Mike Michalowicz and Ron Saharyan created a one-of-a-kind membership organization. Profit First Professionals members soon became highly sought after providers of strategic financial, operational, and personal guidance for business owners around the world.
Where It's Going
Profit First Professionals members continue to grow their firms' reputations as elite professionals. By leveraging the education and resources provided through membership, they build thriving, highly profitable businesses for themselves and their customers. Certified Profit First Professionals have become influential authors, podcast hosts and guests, bloggers, radio hosts, and can often be seen on television.
Global membership has now exceeded 500 members in nearly 25 countries…and those numbers are growing daily.
How does it work?
As a Profit First Professional, you will transform your business into a highly-profitable Client Advisory Services firm. All of our teachings are based on the Profit First methodology, but there's so much more to Profit First Professionals than Profit First.
First, you will work with your Profit First Professionals Guide to establish transformational goals for your firm.
Next, we will guide you down the path to achieving these goals in your own firm, while you work with your clients to help them achieve their own transformation.
Then, you will complete the Profit First Professionals certification exam and work with your Guide to continue your transformation.
As a Profit First Professionals firm, you will:
Gain confidence in your Client Advisory Services.
Earn more money and build profitability.
Stop wondering what your firm "could" be and make it what you always wanted it to be.
– Mike Michalowicz, Creator of Profit First
Your powerful journey is about to begin. Discover what this means for you and your clients.
Who should become a Profit First Professionals firm?
Accounting Firms
Profit First is the perfect plugin to transition from a traditional compliance accounting firm to modern value based consulting firm.
You no longer need to be the messenger of bad news – taxes. You can be the messenger of great news – more profit.
Bookkeeping Firms
You have the most intimate relationship with business owners and their financial information.
Now you can direct them to the profit goals they've always dreamed of (and be valued by them accordingly).
Coaching Firms
Business owners historically hire coaches to get in, get it fixed, and get out. That's not the case with Profit First Professionals firms.
Your coaching services will provide long-term benefits of increasing profits and the need to reengage your services to leverage the growing bottom line.
Become a Profit First Professional
Find a Profit First Professional