Become the go-to
Profit First expert
Stand out as an
approved provider
Grow a wildly successful
profit advisory business
It's hard to serve your clients when they think you are a commodity.
Do clients see you as just another accountant, bookkeeper, or coach?
Are you constantly competing on price?
Is the software you use actually becoming your competitor?
Are YOU ready to be the go-to profit expert?
What makes us different
Profit First Professionals is an exclusive community of accountants, bookkeepers and business coaches who are certified in the Profit First methodology to help their clients build highly profitable businesses.
A Profit First Professional is someone who is known as a strategic, trusted advisor and an integral part of their client's business success. As a member you will leverage the most recognized profit brand in the world.
Meet the people
who have become

Profit First certified
Within 6 months Susanne's company has added on $104,579 in new revenue from Profit First clients alone. Most importantly, she loves being of service to her clients.
…now it's your turn!
Damon no longer struggles to make payroll or pay taxes. His company has experienced an increase in revenue and a massive jump in profitability – up 244% in year 1.
…now it's your turn!
Tracy has increased her company's net income by more than 400%. And, her favorite part, she has more than doubled her personal monthly take home.
…now it's your turn!
Profit First Certification
makes you the

industry authority
Entrepreneurs need profit to achieve their goals!
The number one challenge facing business owners today is sustainable profit. They need your help to make it a reality.
Entrepreneurs trust the #1 brand in the world!
Profit First is the most recognized cash management tool in the world.
Entrepreneurs need you to do it right!
Entrepreneurs demand the expertise, direction and support that only a Profit First Professional can deliver.
"Being a member has exceeded all of my expectations! My life and my business are running with more grace and ease, and less stress and struggle. I am now virtual and serve clients all over the country without even needing to leave my office."

"The support I have received has been life changing. My business has grown explosively. They have provided very professional 'done-for-you' documents that make selling my services much easier. I can't speak more highly of any membership organization, ever."

"Profit First Professionals is responsive and helpful when I have a new situation with a client. They share their years of experience in a variety of industries with me and my clients to ensure that we drive profitability for each client."

"I spent years filling out forms and recording history for my clients. I knew there had to be a better way to enhance my clients' financial situations. My solution was Profit First! From the day I joined Profit First Professionals, I knew that I was a part of something special."

"Profit First Professionals go above and beyond in all aspects. The 'behind the scenes crew' produce documents, marketing material, coordinate sales, generate graphics – you name it. Everything is communicated in a professional and timely manner."
Discover how to position yourself as a high-value expert from your very first call with a prospect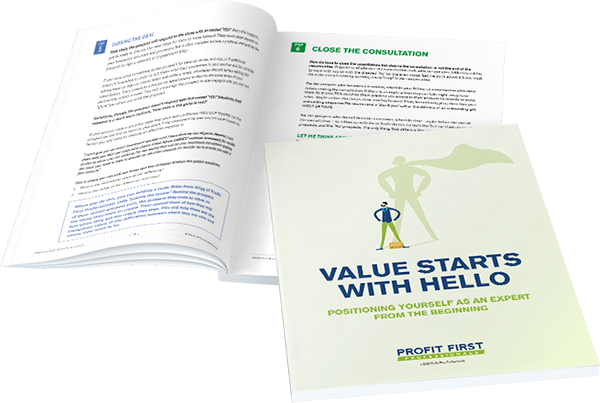 The Profit First Professionals Difference
Where It Began
Profit First Professionals was created in 2014 to help accountants, bookkeepers, and business coaches like you escape the compliance trap and start making more of a difference for their clients.
Using the principles documented in the book, Profit First, co-founders Mike Michalowicz and Ron Saharyan created a one-of-a-kind membership organization. Profit First Professionals members soon became highly sought after providers of strategic financial, operational, and personal guidance for business owners around the world.
Where It's Going
Profit First Professionals members continue to grow their reputations as elite professionals. By leveraging the education and resources provided through membership, they build thriving, highly profitable businesses for themselves and their customers. Certified Profit First Professionals have become influential authors, podcast hosts and guests, bloggers, radio hosts, and can often be seen on television.
Global membership has now exceeded 500 members in nearly 25 countries…and those numbers are growing daily.
How does it work?
As a Profit First Professional, you will master all the core and advanced principles of Profit First.
First, you will go through online and personalized training to learn the foundation of the methodology.
Next, we will guide you through running Profit First in your own business and in your clients' businesses.
Then, you will take the Profit First Professionals certification exam and enter the next stage of membership, where we help you leverage our tools and brand association to convey the value and benefits of working with YOUR FIRM.
As a certified member, you will:
Stand out from the competition,
Dictate a premium price, and
Serve your clients like never before.
– Mike Michalowicz, Creator of Profit First
Your powerful journey is about to begin. Discover what this means for you and your clients.
Who should become a Profit First Professional?
Accountants
Profit First is the perfect plugin to transition from traditional compliance accounting to modern value based consulting.
You no longer need to be the messenger of bad news – taxes. You can be the messenger of great news – more profit.
Bookkeepers
You have the most intimate relationship with entrepreneurs and their businesses.
Now you can direct them to the profit goals they've always dreamed of (and be valued by them accordingly).
Coaches
Entrepreneurs historically hire coaches to get in, get it fixed, and get out. That's not the case with Profit First.
Your coaching services will provide long-term benefits of increasing profits and the need to reengage your services to leverage the growing bottom line.