Show Summary
Ninety percent of the success of your presentation is from the preparation.
In this episode, Scott and Maria talk about what the pandemic has done to the online presentation venue.
They also share some tips on responding to viewers or listeners when a tech problem occurs during a presentation.
When having online presentations, it is best to test out everything you need that you can control ahead of time to lessen the weight on your shoulders during the actual presentation. Scott and Maria leave us points on what to set and prepare before every presentation.
They also give us ideas on how to balance between dual presenters.
Learn more about this topic by listening to this podcast episode now!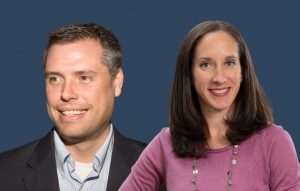 Scott J. Allen, Ph.D. is the Standard Products—Dr. James S. Reid Chair in Management at John Carroll University. He is an associate professor and teaches courses in leadership, management skills, and executive communication. He is also a communications coach, consultant, author, podcast host, and entrepreneur. For almost two decades, he's worked with clients to improve their leadership and communication skills.
Maria Soriano Young, M.A. is a Communication Manager for the Chair of the Heart, Vascular, & Thoracic Institute at Cleveland Clinic. She is also a freelance editor who has worked across several industries. Her background includes 11 years in higher education; she taught a variety of courses at John Carroll University, including business communication and first-year writing, directed the Writing Center, and coached graduate assistants to become effective teachers. She has presented at numerous conferences throughout her career and has also published on various topics in the field of composition and rhetoric.
Websites:
Twitter:
Podcast: Play in new window | Download